A trio of powerful products that leaves skin clear and hydrated.
Read More
Regular price
Sale price
$36.00
Unit price
per
Sale
Sold out
The Dani's Favorites Bundle
View full details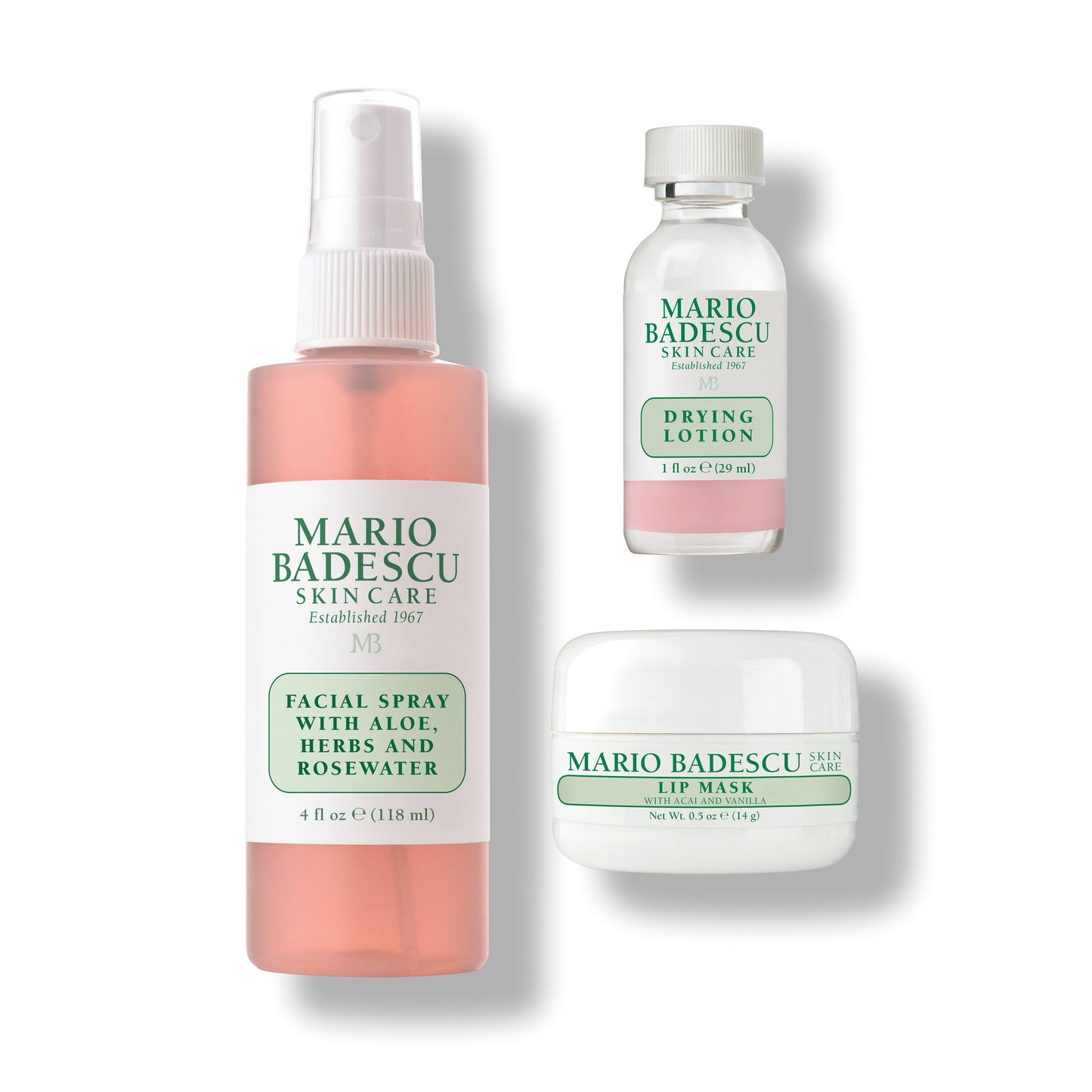 What it is
Drying Lotion (1oz)

Mario Badescu Drying Lotion is a legendary on-the-spot solution that helps dry up surface blemishes overnight. This fast-acting, effective spot treatment contains the following highly effective ingredients:

- Salicylic Acid: reduces the appearance of redness of blemishes
- Sulfur: unclog pores
- Zinc Oxide: absorbs excess oil

Facial Spray with Aloe, Herbs and Rosewater (4oz)

Cult-favorite, multi-purpose face hydrating mist with Rosewater and Aloe Vera reviving dehydrated skin with a healthy, dewy glow and revealing radiant, re-energized skin.

- Rejuvenating Rose
- Antioxidant-rich Gardenia Extract
- Clarifying Thyme Extract
- Mineral-rich, skin-softening Bladderwrack (Seaweed) Extract
- Soothing and hydrating Aloe Vera

Lip Mask with Acai and Vanilla (.5oz)

An innovative, night treatment lip mask consisting of a blend of botanical extracts and oils that moisturizes overnight, for supple and hydrated lips by morning.

- Acai Berries: These super berries are incredible anti-ageing agents that are rich in Vitamin C, Vitamin A, Omega-3, Omega- 6, and Omega-9 fatty acids.
- Vanilla: Sweet, uplifting and relaxing scent for your best beauty sleep."
Salicylic Acid

A beta hydroxy acid (BHA) that helps dissolve away pore-clogging dead skin cells.

Thyme Extract

An ingredient that has natural astringent, antibacterial and antioxidant properties.

Shea Butter

A vegetable fat from the nuts of the shea tree, used as an emollient for skin and hair (retains moisture), as an occlusive (help hold moisture in), and to increase viscosity (thickness).
How to Use
Drying Lotion:
1. Apply nightly, after cleasing and toning skin. Dip a cotton swab into the pink sediment at the bottom of the bottle *DO NOT SHAKE BOTTLE
2. Dab formula directly on the surface blemish.
* DO NOT RUB IN. Do NOT use on broken skin.
** DO NOT dip the same cotton swab into the bottle again. Use the other side of the cotton swab to avoid contaminating the product with bacteria. Let dry and rinse off in the morning. Before bed (after cleansing and toning).

Facial Spray with Aloe, Herbs and Rosewater:
1. Mist onto face, neck, or hair as needed.
2. Use it to infuse more hydration before or after applying moisturizer, as a pick-me-up on the go, or post-makeup application to give skin a dewy finish.
* If product gets into eyes, rinse well with water

Lip Mask with Acai and Vanilla:
Apply a generous layer onto your lips in the evening for overnight hydration or in the daytime for 24 hour moisture.