A morning & nighttime skincare solution for oily, blemish prone skin.
Read More
Regular price
$34.00
Sale price
$23.80
Unit price
per
Sale
Sold out
Good Skin is Forever & Clear
View full details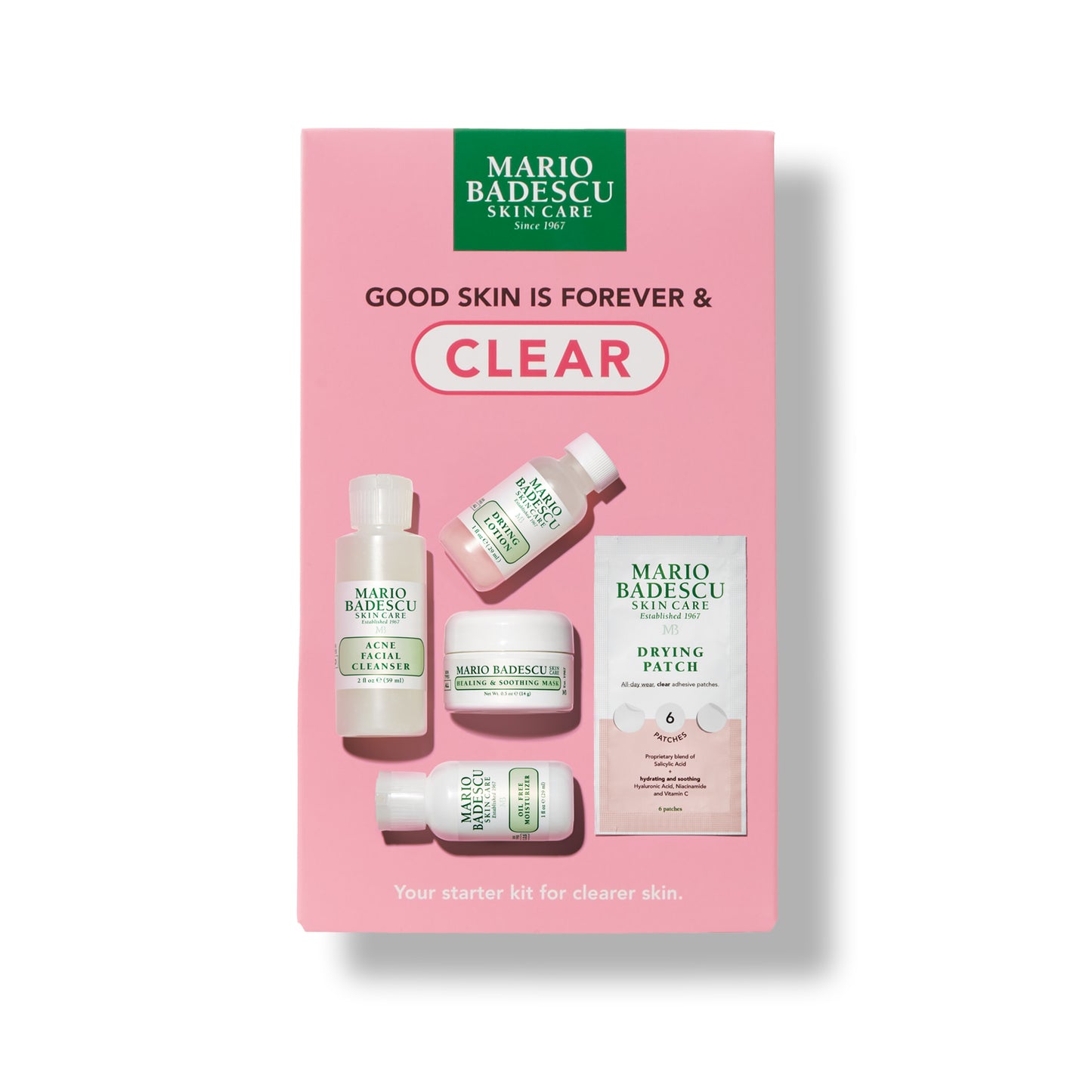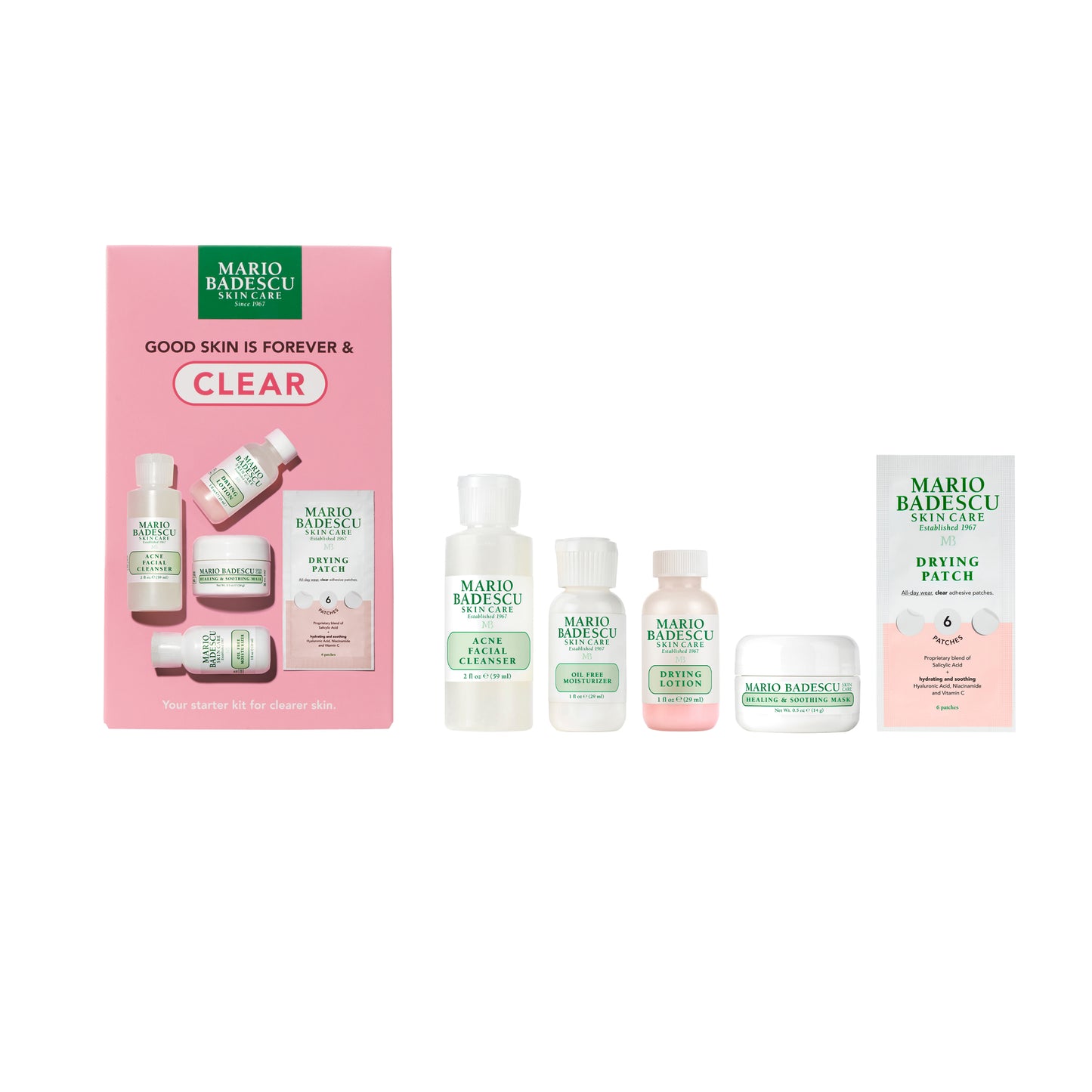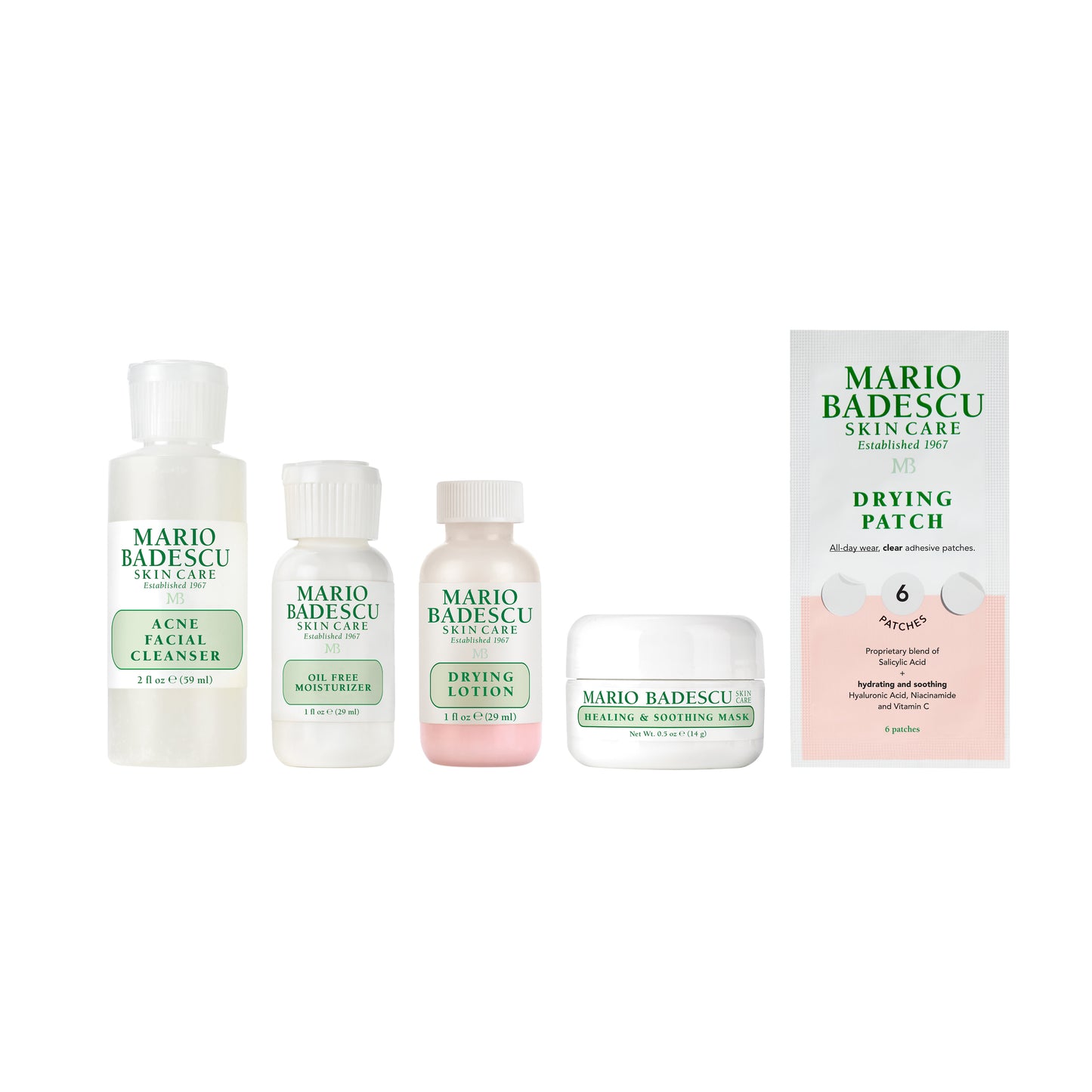 What it is
Good Skin is Forever & Clear - Blemish-Prone Kit is a 4 step skincare routine for oily, blemish-prone skin. Our collection of clarity-boosting products help treat stubborn blemishes, clogged pores and oily congested skin, to reveal a clear, healthy looking complexion from day one...and forever after. This kit includes:

- Acne Facial Cleanser 2 fl oz contains Salicylic Acid for a deep pore clean, while Aloe Vera, Chamomile and Thyme calm stressed skin, revealing a healthier complexion.

- Drying Lotion 1 fl oz is an iconic overnight on-the-spot solution for surface blemishes, blend of Salicylic Acid, Sulfur and Zinc Oxide target pesky spots while you sleep.

- Drying Patch gets rid of blemish spots with a blend of Salicylic Acid and soothing Niacinamide, Vitamin C and Hyaluronic Acid.

- Oil Free Moisturizer 1 fl oz is an ultra - absorbent, lightweight and hydrating moisturizer that wouldn't clog pores.

- Healing & Soothing Mask gently draws out impurities and alleviates dryness while calming botanicals deliver light, soothing hydration.
#MBSKINTIP: Have oily skin? Try our Special Mask for Oily Skin, specifically designed to draw out impurities and mattify the complexion.
Salicylic Acid

A beta hydroxy acid (BHA) that helps dissolve away pore-clogging dead skin cells.

Zinc Oxide

Zinc Oxide is a universal active ingredient that offers several benefits to the skin: Protects Skin from Sun Damage, Helps Treat Acne, Improves Healing of Skin, Controls Excess Oil and Treats Dark Spots.

Niacinamide

A form of Vitamin B3 used as an emollient for skin and hair (retain moisture) and with skin brightening benefits.
How to Use
1. Acne Facial Cleanser*: Gently massage cleanser in circular motions on wet skin, then rinse thoroughly with warm water.

2 (PM). Drying Lotion**: Do NOT shake the bottle. Before bed (after cleansing and toning), dip a cotton swab into the pink sediment at the bottom of the bottle. Dab directly on the surface blemish; do not rub in. Let dry and rinse off in the morning.
Do not apply to eye or lip area.

2 (AM). Drying Patch**: Apply after cleansing and toning. Peel patch off sheet and apply adhesive side down to the affected area. Press gently and allow patch to remain in place throughout the day for optimal results.
Do not apply makeup or any other topical product over the patch.

3. Oil Free Moisturizer*: Apply to skin after cleansing and toning, avoiding the eye area.

BONUS Healing and Soothing Mask*: Use 2-3 times a week for best results. Apply a thin layer of mask on clean skin, avoiding the eye area. Wait 15-20 minutes and rinse thoroughly with warm water. Follow with moisturizer or night cream.

* If product gets into eyes, rinse well with water.
** Do NOT use on broken skin.